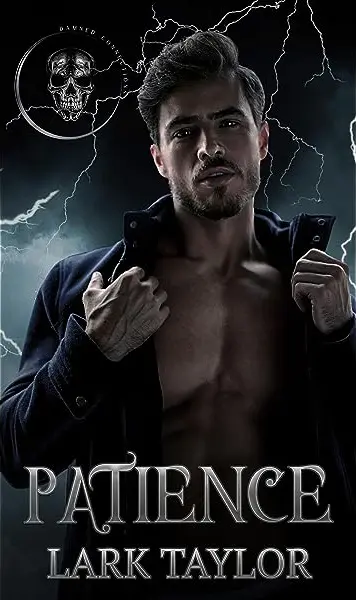 Series: Damned Connections
Pages: 378
Time to read: 1h47m
Pages/hour: 212
Date read: Wed 23rd August 2023
Rating: 👨🏻‍🚒👨🏻‍🚒👨🏻‍🚒👨🏻‍🚒👨🏻‍🚒
Diving into a new series!
So, if you didn't already know, Patience is the first book in the Damned Connections series, which spins off from the Reckless Damned series. It's worth knowing if, like me, you just pick up a book because it's interesting and then you're like 'Wait, why are all these couples being mentioned all the time?' and then find out you probably should have started somewhere else.
Of course, you can also start here. Just beware of some spoilers for that earlier series as you read!
Anyway, back to Patience. We start with Ferry, aka Ferenc, who once upon a time was an archangel. That was all going great up until he fell madly in love with Leof, a human, and joined Lucifer's fight purely because he wanted their love to be accepted.
Only then Leof goes and dies.
Ferry makes a deal. He'll shuttle souls into hell and his love, soul tethered to an angel's, will reincarnate over and over again. Eventually, they'll have one final chance – when the angel Leof was connected to dies, Ferry will be free to leave and try and win Leof back.
One catch. If Leof doesn't fall in love with Ferry, and accept the mating bond before he dies this time? He'll be dead for good.
This is basically where we start, and I've gotta say, it's a good set-up for a second-chance romance, a trope of which I am not usually a big fan. They can be messy (not in a fun way) and although all the familiarity is fun, I prefer the excitement of someone trying to win someone else over for the very first time. I've read a few second-chance romances I've enjoyed, but it's not a trope that I go for on its own.
HOWEVER, we get a fun mix of both here. Ferry, of course, knows a lot about Leo, but at the same time doesn't. And Leo? He doesn't know anything about Ferry at all.
He also thinks he's straight.
Again, bi-awakening is not a trope that is usually the deciding factor when I pick up a book, but the two combined are a lot of fun – because of course there have to be a bunch of other things going on for those two tropes to intertwine. It works out so well here. We get all of Ferry's angst and pining, and all of Leo's anxious excited discovery of something new about himself.
Ugh, I love it.
Oh, and if you were worried that, this being a spin-off, we wouldn't see much of the characters we all already know and love, don't! All our (my!) faves show up again, and we get some fun new ones too, including Matty, Leo's sweet younger brother, and Danny, Leo's friend and colleague.
I'm super excited to see where both of them end up!
Lower stakes?
Gym equipment can be confusing
Obviously, my favourite scene is that one at the gym. If you know, you know.
But overall? I loved this! I like that this series seems to have a more chill vibe than the Reckless Damned books (she says, one book in), which is to say that there's still some violence and danger, but nothing world-ending so far.
The spice levels are, of course, way up there, and I don't know about you, but I loooooove a book where someone pines after someone else the way Ferry does here, especially when the person doing the pining is arguably the 'more powerful' of them.
Basically: Ferry is the hot AF dork I wanted him to be.
And I've heard that next up we'll have Sebastian's book! Yes, I am going to be just as feral for it as Sebby himself will be.
Fancy giving it a read?