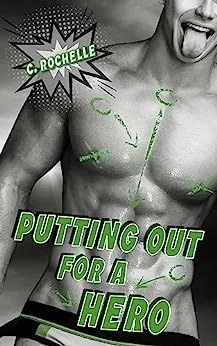 Series: Villainous Things
Pages: 460
Time to read: 1h58m
Pages/hour: 234
Date read: Fri 14 July 2023
Rating: 🦹‍♂️🦹‍♂️🦹‍♂️🦹‍♂️🦹‍♂️
Enter: the actual himbo
Not gonna lie, I wasn't at all interested in Baltasar as a character until the last few chapters of Gentlemen Prefer Villains, but then that's probably because I didn't know much about him before then. His appearances in Not All Himbos Wear Capes were brief, with Wolfy taking much more centre stage out of all the Suarez siblings, so it was difficult to even get a read on him.
And up until those final chapters of Villains, I don't think I was even that sure what his superpower was. (No shade if it was mentioned – 100% I wasn't paying attention!) But then it was funny, and he was super sweet to Simon – as well as the appropriate amount of terrified of him – and I was suddenly way more excited for his story.
Zion was similar, of course, having popped up earlier in Wolfy and Simon's story, but we knew even less about him.
What a journey the two take us on! I'd argue that Balty is far more the himbo than Butch (and, oh, I have THOUGHTS about Butch in the spoiler zone below!), being all big and sweet and thinking he's a little bit slow – when really, he's just as messed up as the other Suarez siblings, honed to be a weapon as they all have been. He's awkward and anxious and perfectly adorable, which leads to his and Zion's relationship having a dynamic I wasn't quite expecting, but loved all the same.
It's not that often I read a bi-awakening; it's definitely not something I particularly go out of my way to look for, though books featuring this trope are always fun. In this one, I liked how into Balty Zion was – there's very little pining on Balty's part because Zion is in charge and ready to take what he wants, so long as he knows Balty wants it too. It shifts the goalposts for what the stakes are, and what everyone else is after, and I think made for a much deeper story in that sense.
Oh, and of course, the plot thickens in this book as we get closer to what I imagine is going to end in the next one. I was so glad I re-read the first two, because I really needed to have that knowledge to grasp the weight of certain revelations (or even to understand them at all!), and it made it soooo exciting.
Love some multifacetedness
On a highway to… who knows?
Overall thoughts?
This is yet another spicy foray into the world of morally dubious people with superpowers, and though I think Balty and Zion's story is in many ways less extreme than Wolfy and Simon's (the kinks, I mean), it's still ranking way up there.
I loved the way the external plot came together in this one, and the questions everything raised for me. Things are getting very complicated, but I love that. There are ideas and concerns I have that I'm wondering how Rochelle will address, especially considering…
The next book is all about the twins! And I think it might be much darker!
No, but the next one seems fascinating, especially considering who I think the twins' love interest is (yeah, seems like they're sharing a guy) and this might truly be the villain/villain(/villain) combo we're after.
(No, Simon and Wolfy don't count, Simon is the villain but Wolfy is along for the murderous ride.)
But yes, as usual, I can't wait for the next instalment!
Check it out!