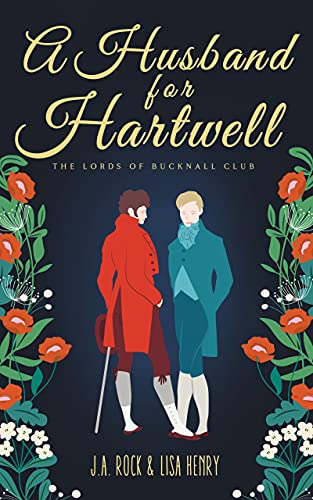 Series: The Lords of Bucknall Club
Pages: 205
Time to read: 1h21m
Pages/hour: 152
Date read: Sat 2 Apr 2022
Rating: 🐸🐸🐸🐸🐸
The gay Bridgerton we deserve…
Okay, so maybe I haven't watched Bridgerton yet. But, A Husband for Hartwell is a lovely, familiar entrance to this queer Regency series. (A series that I enjoyed so much, I read all the currently available books (five!) over the course of two days. I'm not kidding.)
The premise is straightforward: Lord William Hartwell is expected to wed his childhood friend, Lady Rebecca Warrington. He's pretty happy being single, but his father isn't – so if he doesn't marry her, he risks being cut off. Then, enter Warry, Becca's younger brother, who Hartwell finds himself drawn to – only there's something going on between Warry and the mysterious Lord Balfour. When Warry is forced to spend time recuperating at Hartwell House, Hartwell and Warry draw ever closer… but can they ever be together when so much is forcing them apart?
I mean…
We all know how these stories end, right?
Regardless, I really enjoyed this book. Parts of the plot are predicated on one character not telling the others about something that it turns out they could solve pretty easily, but the important part is that it makes sense in context that the secret would be kept, even if it is sometimes a little frustrating.
Warry is a great character – his bravery shines through and his youth makes some of his decisions more apparent. It's great, too, to see Hartwell learning from his mistakes and reflecting on his character. I've read some books recently where that hasn't necessarily been the case, and it's more than a little frustrating.
Something that I'll get into in the other reviews for this series is the skilful way these characters are handled in general. My impression of Hartwell from this book was that he was a little dense and arrogant, sure, but not necessarily a fool – he hurt Becca and Warry, at times, but did his best to look out for them, too. Depending on the point of view character in the other books, Hartwell comes across as a bit of a himbo. There are plenty of book series I've read where characters cross over from story to story, but I've rarely seen a clear divide between how the characters see themselves and how they are seen as in this series – and it's interesting!
Okay, so what are the good bits?
Spoilers ahead!
Definitely Hartwell and Warry's first kiss outside the party. That scene is riddled with tension, the push-and-pull of their relationship at that point, them both finally giving in… It's a great pay-off that gives us a second of respite before the tension ratchets up again.
Warry helping Hartwell fire an arrow – actually, I enjoyed that whole meet-the-parents (or the parents meet each other) scene, from Charlotte catching on that maybe everyone around her is just a bit miserable, to Warry nearly getting (accidentally) shot, to him teasing Hartwell, to Hartwell and Becca's argument after the fact. It's a fun, memorable part of the story.
Less a specific scene, more in general, but I love the side characters. Gale is hilarious and Becca's whole journey is just a lovely addition to the main plot. I was glad to find out the next book was about Gale, just because I'd enjoyed him in this one so much.
"Well," Gale said. "I am in theory here escorting my sister-"
"Clarissa?" Hartwell inquired, seeking any change in topic.
"No, I believe it is one of the others. Mary, perhaps?""
"You do not have a sister Mary."
"It is so difficult to keep track. Do I have an Annabelle?"
"You have an Anne-Marie."
And finally…
Gonna give this one five frogs down the back of poor Hartwell's shirt: 🐸🐸🐸🐸🐸
It's a lovely book, a great set-up, interesting and compelling characters, and with all the romance you'd expect from a Regency… well, romance. The heat level is pretty solid, though they do fluctuate across the series.
Fancy giving it a read?