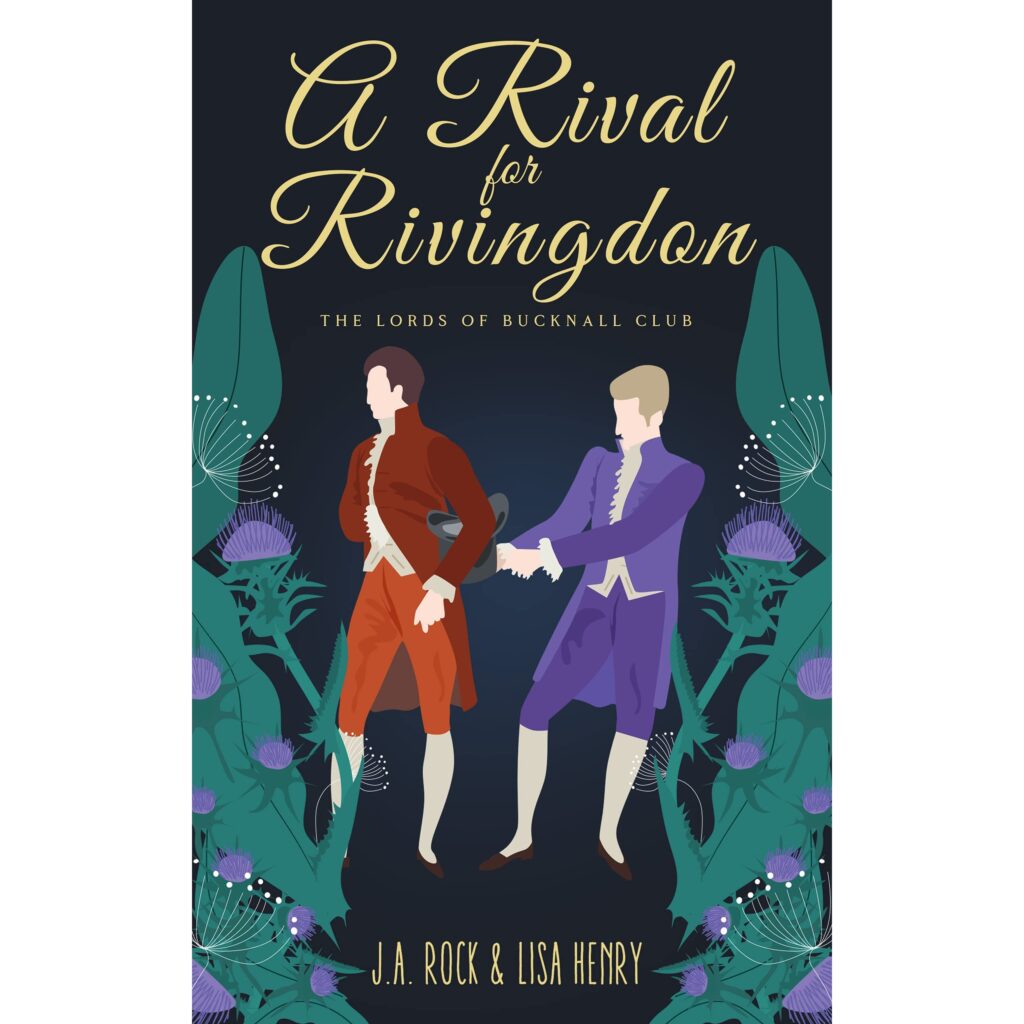 Series: The Lords of Bucknall Club
Pages: 244
Time to read: 1h51m
Pages/hour: 132
Date read: Sun 3 Apr 2022
Rating: 🎩🎩🎩🎩
London's best dressed…
Ah, our first (and only) enemies-to-lovers book in this series, and it's a doozy! There's a few mentions of Morgan, Warry and Becca's cousin, in the first two books – with A Case for Christmas letting us know there's been something of a scandal go on, but this one is all about him and his sudden, nefarious rival, Loftus Rivingdon.
Both men are due to debut in this year's Season and plan to use their beauty and charm to win over a rich and titled husband. Both set their eyes on one particular prize, Lord Soulden, who is unmarried and eminently desirable.
And so, their rivalry begins.
Beauty's insecurities
There's a slower start to this book than to either of the two that came before it, but with good reason, of course. Loftus and Morgan are strangers at the outset, and then bitter rivals as the story moves on.
Honestly, they're also both a little annoying at the beginning, though there were some parts that made me cringe so hard from secondhand embarrassment – in the best way! It's great to see their growth over the course of the story, taking them from annoying, vain airheads to these adorable, earnest men who just want the best for each other.
Time for spoiler talk
Spoilers ahead!
Somehow, I feel like this is an especially difficult book to write about without venturing into spoiler territory. I supposed it's mostly because Morgan and Loftus' whole relationship starts spiralling because of their mutual desire to find a partner, and, without their own conscious understanding, their mutual desire of each other.
I'm definitely a fan of the 'well, we need to practice' trope, and it's wonderfully written here. There's enough animosity earlier in the book that it's believable that Morgan and Loftus would be left alone, and believable, too, that they would egg each other on in this way. Poor Cecil is yet another great (long-suffering) side character, who's willing to allow his brother a little leeway, if only so he can keep his own peace.
Of course, things become much more complicated when it comes to Loftus' family – no one seems to have as understanding a parent as Gale – and his father's plan to marry him off to a man planning to live in New Zealand. It's unsurprising, in the end, that Morgan and Loftus are drawn together – with the help of the devilish Lord Soulden – and have their quiet wedding in Scotland causing, much to their own giddiness, the scandal of the Season.
There were definitely particular scenes I enjoyed – Morgan and Loftus bonding over The Maiden Diaries; any time Morgan had to speak to his uncle; Loftus doing his best to injure Morgan on their first walk together – and some that, well, I enjoyed, even if they made me want to curl up and die (mostly the loss of Loftus' poor frock coat, tragic), but a powerful one was definitely when Morgan confronted his mother about her issue with the Rivingdons. It cements the conclusion he's slowly been drawing about his life and puts him in a place where he's ready to think about spending the rest of his life with someone.
And finally…
This book's getting four snazzy hats: 🎩🎩🎩🎩
While Morgan and Loftus can be the most infuriating and dramatic men, their story contains some of my favourite tropes in the genre and is a sweet journey of growth and eventual romance. It's definitely a funny one, and a relaxing read in between the horrors of Gale's case and whatever's coming up with Soulden next. Love these (dramatic – oh, so dramatic) boys!
Fancy giving it a read?