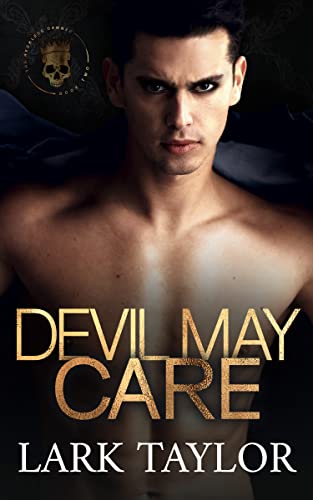 Series: The Reckless Damned
Pages: 341
Time to read: 1h41m
Pages/hour: 203
Date read: Tue 2 May 2023 (re-read)
Rating: 👿👿👿👿👿
Hey, bestie!
Maybe you know, maybe you don't, but Harlow is my favourite character (I think I might have mentioned that already?) in The Reckless Damned series. He is exactly the type of character I love – sassy, maybe easy to underestimate, but will destroy you if he feels it's necessary.
And, oh boy, it can often be necessary.
In Devil May Care, though, our boy Harlow isn't quite himself. He knows he's found his mate, and he knows his mate wants nothing to do with him. Well, not like that. The one thing he can't figure out is… why?
Bailey can't get over his own hang-ups about himself. Why would someone as gorgeous and interesting as Harlow want someone like him? And no matter how much Oscar seems to think they might be perfect for one another, Bailey can't quite bring himself to believe it.
Of course, they'll get there in the end! It's good to have the whole gang back, too – Oscar and Cal are there, like, all the time, and we spend a bit of time with Mori and Dagon, too. Plus, we get to meet Bailey's mum, who's just the best!
Slow and steady…
The plot set-up leads to a much steadier relationship build than I was expecting going into it. With Harlow, I guess I figured it might be similar to Cal's story – a go hard fast kind of thing – but Bailey needs a little more convincing to really trust his own demon.
It's lovely, though! We spend a lot of time with Harlow and Bailey really getting to know one another and build their relationship via friendship first. This is important for Bailey because, no matter how much he was able to help Oscar before he met Cal, his own self-confidence and self-esteem are in tatters, and he needs Harlow to be relentlessly determined to get through to him for it to even begin to work.
And it's this aspect of the book that I also really enjoyed because it's something that I'm sure resonates with a lot of people – and with me, too! There's so much emphasis placed on the way people look and the way people think they should look, the way society thinks we should look… It's incredibly pervasive and, most of the time, insidious.
This is, as well, an issue within the LGBTQIA+ community (because hey, we're part of society I guess) and particularly for gay men, who are held to and sometimes hold each other to unrealistic body standards and, as we all do, have stereotypes and make assumptions based on someone's size. So, Bailey's dealing with how he feels about himself in the context of a fatphobic society and on a micro level, in a community that also often perpetuates those attitudes and stereotypes.
(Can you tell I've been listening to a lot of Maintenance Phase recently? It is SUCH a good podcast btw.)
So, it's nice to see Bailey get his happy ending with someone who truly loves him just as he is. We get a lovely build to that point, which is a contrast, too, to Harlow's chaotic personality.
Well, until it all goes tits up…
Some twisty turns ahead!
So, should you read it?
Yes!
Five little devils for these devils: 👿👿👿👿👿
Harlow's book gives you the chance to see his softer side and the nuances of his relationship with Bailey. Obviously, you'd run a mile if someone stalked you in real life (I hope) but the beauty of books like this is that we know the outcome: it's a perfect, loving relationship where bad things might happen but your boyfriend is a literal demon prince so, like, you'll be fine.
This story, too, is integral in building up the external plot of the next two books. We get a little prelude to Mori's story at the end, so fingers crossed our hunky lumberjacksnack will get his mate!
Fancy giving it a read?
Check out Devil May Care on Goodreads
Find Devil May Care on Amazon