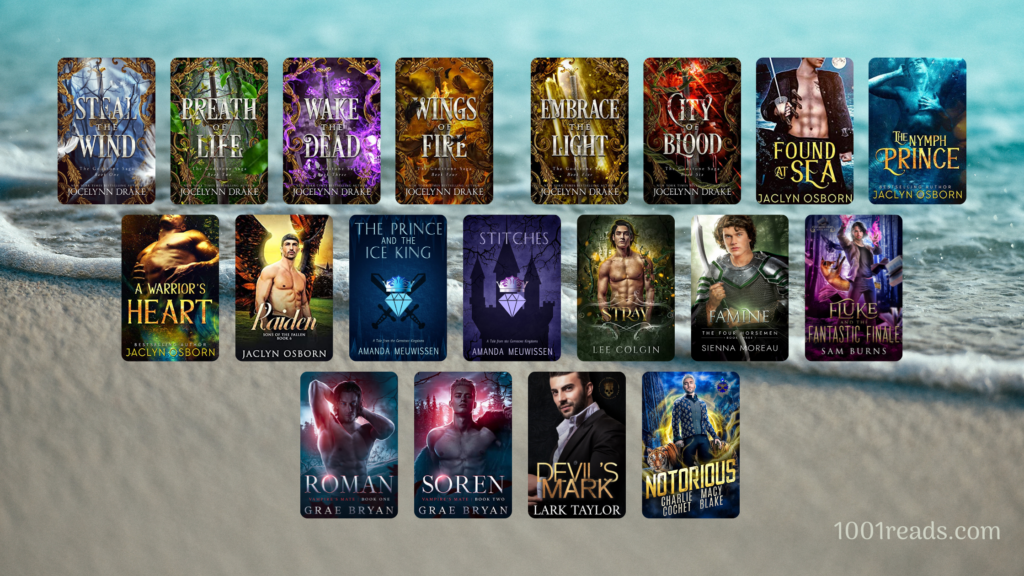 August is over, which means, as far as I'm concerned, it's basically autumn already!
AKA, pumpkin spice season is here! 🙌☕
(Yes, I'm basic as hell. What did you expect?)
Anyway, since I haven't been posting full reviews lately – they'll be back soon – I thought this was a good time to do a quick wrap-up of the 19 books I read in August.
But first, some stats!
Books read: 19
Time taken: 1808 minutes (30h8m)
Pages read: 6,268
Average rating: 4.63
Authors read: 10 (one book was co-written)
Series (/parts of series) read: 10
Genres: 1
Now, to the good stuff…
Everything I read (or at least, finished reading) last month was a gay romance, but I've definitely been leaning heavily on the paranormal/fantasy side of things. A couple of them were a little darker, which is perfect as we head into ~spooky season~. 👻 I am hoping for a little more horror in September, but we'll see!
The Godstone Saga – Jocelynn Drake
Steal the Wind ⭐⭐⭐⭐⭐; Breath of Life ⭐⭐⭐⭐⭐; Wake the Dead ⭐⭐⭐⭐⭐; Wings of Fire ⭐⭐⭐⭐⭐; Embrace the Light ⭐⭐⭐⭐⭐; City of Blood ⭐⭐⭐⭐⭐
Ah, Jocelynn Drake is such a solidly good M/M romance author, but I have to admit to putting off this series for a while. I wasn't sold on the friends-to-lovers potential in the blurb of Steal the Wind, but then I got an email that the final book in the series had been released and I figured, why not?
Well, I'm VERY glad I waited for the whole series to be done, not gonna lie. Each book was great, clearly leading into the next, with the kind of overarching plot that had me racing through many a generic fantasy series in my teens. I loved every character (especially Rayne and Haru, oh my god) and there were so many good moments (absolutely full of spoilers, of course).
Oh, and, obviously, I'm on tenterhooks for the eventually coming series (sequels? spin-offs?) because I thought we were going to get a hasty wrap-up of those characters and I'm super glad we'll get to explore them instead.
Probably my favourite book of the series is Wings of Fire and it's the one I'm happiest I didn't have to wait for. I'd have been losing it if I'd had to wait for that! It made me tear up a little, made me happy, rounded out the world and really balanced out the series so much.
Check out the series here (Amazon UK)
Check out the series here (Amazon US)
Check out the series here (Goodreads)
Tales of Fate – Jaclyn Osborn
Found at Sea ⭐⭐⭐⭐; The Nymph Prince ⭐⭐⭐⭐; A Warrior's Heart ⭐⭐⭐⭐
I knew the next Sons of the Fallen book was due out in August, so I poked around in Jaclyn Osborn's back catalogue for something else to read in the meantime.
I did like this series, but I think it started off strongly for me and then didn't maintain that. It might also be that I wasn't super invested in the nymphs/mermaids; give me something with vampires or shifters any day, but apparently, mermaids are just an area I'm not as interested in.
A Warrior's Heart, especially, ended up being slightly different to what I expected, and I didn't connect with Malik and Troy as much as I had with Kellan and Fletcher or Lorcan and Alek.
Still, these are fun pirate/mermaid tales and I did enjoy them.
Check out the series here (Amazon UK)
Check out the series here (Amazon US)
Check out the series here (Goodreads)
Raiden – Jaclyn Osborn
⭐⭐⭐⭐⭐
This is the sixth book in the Sons of Fallen series (and I am FURIOUSLY happy that Alistair's will be the seventh; for some reason, I thought he might not get a book) and it's all about our delightful himbo Raiden, whose sin is gluttony.
Honestly, props to Osborn because I don't know how you go about writing a character this adorable, but he's so sweet! And Titan is, too, which ends up with much of the conflict here being external, as opposed to Bellamy, which had a justifiable balance of both.
There are places where it feels almost fluffy, in terms of the overall plot, but then ramps up towards the end, as we're getting ready to go into (what I assume is) the final book of the series.
Obviously, if you haven't read any of these books, start at the beginning, but they're a fun ride and not super dark, considering the subject matter.
Pick up Raiden here (Amazon UK)
Pick up Raiden here (Amazon US)
Check out Raiden here (Goodreads)
Gemstone Kingdoms – Amanda Meuwissen
The Prince and the Ice King ⭐⭐⭐⭐⭐; Stitches ⭐⭐⭐⭐⭐
So, I first came across these books in my recommendations and stopped on them because of the covers. I get why all the other covers look that way, of course; they're ways to signal to the readers what they're about (and that's useful), but sometimes something different can stand out.
It helped that this was in my LGBTQ+ recommendations and the first one is The Prince and the Ice King… It's kind of hard to miss the genre, with that one.
But yes, these were very fun! Meuwissen has built this semi-fairy tale world (the first book is based on The Snow Queen, albeit with Beauty and the Beast elements mixed in) that I'm sure is going to feel more and more fleshed out the more books we get.
I think I preferred Reardon and Jack's story to Levi and Ashmedai's (Stitches), but probably only by a little bit. The reveal in Stitches was great, too, nicely built up but obvious if you know where to look – which is what a reveal should be!
Check out the series here (Amazon UK)
Check out the series here (Amazon US)
Check out the series here (Goodreads)
Stray – Lee Colgin
⭐⭐⭐⭐
There seemed to be a big release day toward the end of August because a bunch of books I was waiting for came out – Stray was one of them.
I possibly should have re-read the other books in the Outcast Mates series before I jumped into this one, but it wasn't all that necessary. Colgin's good at weaving in reminders of who's who, and once I'd got a handle on the broad strokes, things made perfect sense.
This was a lovely read, too. I did vaguely remember Leonas, who had been a background character before, and Jeno is an adorable baby vampire who decides it's his (un)life's mission to get the panther shifter to take notice of him.
There's some push and pull in their relationship, but that's over quickly and then we're back to the external plot. This was a nice, fast read, and I'm looking forward to reading the next one!
Pick up Stray here (Amazon UK)
Pick up Stray here (Amazon US)
Check out Stray here (Goodreads)
Famine – Sienna Moreau
⭐⭐⭐⭐
Who ever expected Famine to be the sweetest of the Four Horsemen? This was another new release in August, and I'd kind of forgotten that humans are insignificant in this series; it's all about the horsemen and the angels and the demons.
Famine's ex is Lucifer, formerly the Angel of Kindness, and so there's more than a bit of a dark edge to this book. (And some questionable substitutes for lube that are uhhh maybe a bit much!)
Still, they're a good pair, their story the best-rounded so far, what with the history they have. I think I probably liked Paul, Famine's dog-sized spider, more in this book than the others, too.
There was one subplot that did leave me incredibly distracted, though, and I'm hoping we'll get a bonus chapter or something that will explain how it happened? I'm not one for caring that much about going back to people we've already visited, but this one ended up being pretty vital to the plot and pulled me out of it because I was wondering if I'd missed something.
I am excited for Death, though I'm a little concerned about who he'll end up with. I've got a clue, but I don't know how they're going to come together…
Pick up Famine here (Amazon UK)
Pick up Famine here (Amazon US)
Check out Famine here (Goodreads)
Fluke and the Fantastic Finale – Sam Burns
⭐⭐⭐⭐⭐
The series has finally ended!
I went on a Sam Burns kick earlier in the year, and while this isn't my favourite series (Fire and Valor, written with W.M. Fawkes, was killer), I was immediately drawn in.
Sage and Gideon are absolutely the cutest, and I love the world Burns built through this series. Not to mention the covers – again, I'm not usually super hung up on covers or anything, but there's some really good design work on every cover in this series, and that needs to be recognised.
I'd say, overall, this series is generally low on the heat rating, but this book was a satisfying wrap-up to the whole thing. The mystery was solved, rights are being wronged, and Sage and Gideon will have their happily ever after.
I highly recommend this series if you're looking for something new to read. And much like I did when I read His Dark Materials and spent ages wondering what my daemon would be, I'm now wondering what animal I'd have as my familiar…
Pick up Fluke and the Fantastic Finale here (Amazon UK)
Pick up Fluke and the Fantastic Finale here (Amazon US)
Check out Fluke and the Fantastic Finale here (Goodreads)
Vampire's Mate – Grae Bryan
Roman ⭐⭐⭐⭐; Soren ⭐⭐⭐⭐⭐
I'd downloaded Roman at some point, but with all the new releases, etc., I hadn't got around to reading it. Then I saw Grae Bryan share a graphic about Soren in a Facebook group I'm in and I realised I really need to get stuck in.
Both books are great! Roman has the titular character, who is brooding and semi-tortured and gorgeous-but-creepy, feel a pull to Danny, an adorable nurse who's too busy taking care of everyone around him to look after himself.
Ah. Mazing.
They're adorable together, and with the additional complication of Lucien, who's hot on Roman's tail to (presumably) ruin his life, this is a great story.
And then there's Soren. We meet both him and Gabe in the first book, but I think Soren's story is definitely the stronger of the two. It's clearly defined (we're puppy-sitting! for three weeks!) and Soren's deep-buried need to defend himself is perfectly matched as a foil for Gabe's need to take care of everyone around him – albeit in a different way to Danny.
I loved the ending. It is so perfect and (without spoilers), I think some people might argue that part of what happens seems ultimately pointless, but it's not. It's the final evidence that Soren has grown and that Gabe has, too.
Oh, and the ending ending, when Roman and Danny come back from Bali. Poor guys, it's been a whirlwind while they've been gone!
Check out the series here (Amazon UK)
Check out the series here (Amazon US)
Check out the series here (Goodreads)
Devil's Mark – Lark Taylor
⭐⭐⭐⭐⭐
Again, this was a book I picked up on a whim, and honestly, I think if you're into Soren, you'll love this one (and vice-versa).
Poor Oscar has escaped an incredibly abusive relationship and is just starting to recover. When he meets Cal, a literal demon, it's like a breath of fresh air in his life.
Cal's great. And, yes, there's definitely a darker (if sometimes light-heartedly, in terms of demons etc. dying – but TW of course for DV, and the mentions of that are absolutely taken seriously) tone to it, but it's a lot of fun. There's some good world-building, as well, and I was delighted to find out this book was set in the UK!
Honestly, sometimes it takes a minute to tell because there are so many cities etc. with the same name in the US, but yay, we're in the UK, baby!
Oh, and it's hot as hell. Cal and Oscar are into each other, and they're absolutely adorable at the same time.
Harlow's book is next – looks like he might be trying to get his demonic little claws on Bailey – and I can't wait for that.
Pick up Devil's Mark here (Amazon UK)
Pick up Devil's Mark here (Amazon US)
Check out Devil's Mark here (Goodreads)
Notorious – Charlie Cochet & Macy Blake
⭐⭐⭐⭐
The final book I read in August and an interesting mix of shifters and Regency-era trappings, except people also have mobile phones?
I did enjoy this. It had all the fun parts of a Season – there's parties, and somewhat-scandalous gossip – but underneath it all, our main characters Cas and Saphir are also investigating a murder, while they're both keeping secrets of their own.
There's definitely a lot going on here, and there were times when I felt a little lost. With lots of characters, I sometimes found myself getting confused as to who was who, and I was a little frustrated that Brandr's murder wasn't even close to being solved by the end of the story.
Cas and Saphir's actual relationship, of course, was incredible. I was a little confused that Cas didn't recognise him at all – sure, Saphir was never Brandr's bodyguard, but he was Captain of the Guard – but that's irrelevant. Cas has clearly been a bit of a rake and Saphir gives him a run for his money, so they're a great match.
I will read the next book, but I'm hoping that Cas still gets to be very involved in solving the mystery. It seems like that part of the story – and therefore his emotional arc – was really left open, and I think that's why it didn't feel like this one was as complete as it could have been.
Pick up Notorious here (Amazon UK)
Pick up Notorious here (Amazon (US)
Check out Notorious here (Goodreads)
What's coming out in September?
There are a few books coming out this month that I'm very excited about…
Seraph – Lily Mayne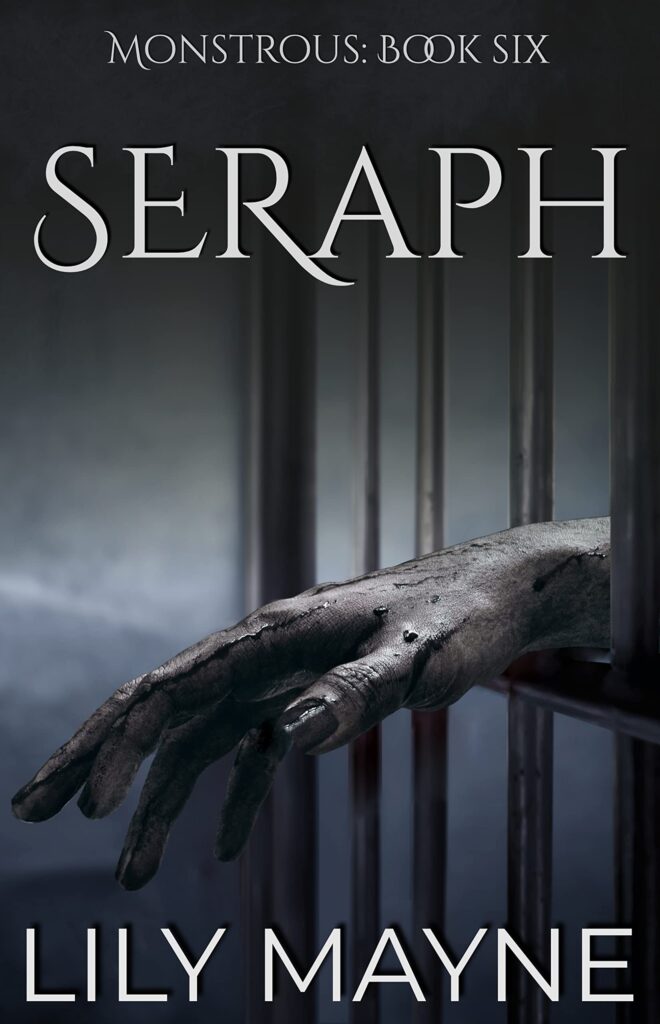 I love, love, LOVE the Monstrous series (and in fact anything Lily Mayne has written so far), and I cannot wait for this book. Lilac is – ugh – such an interesting character, and I can't wait to see him soften for his monster.
I'm hoping I'll manage a read-through of the previous five books before next Friday, but we'll see how that goes.
Seraph will be released on 9th September 2022
Lightning Born – Sam Burns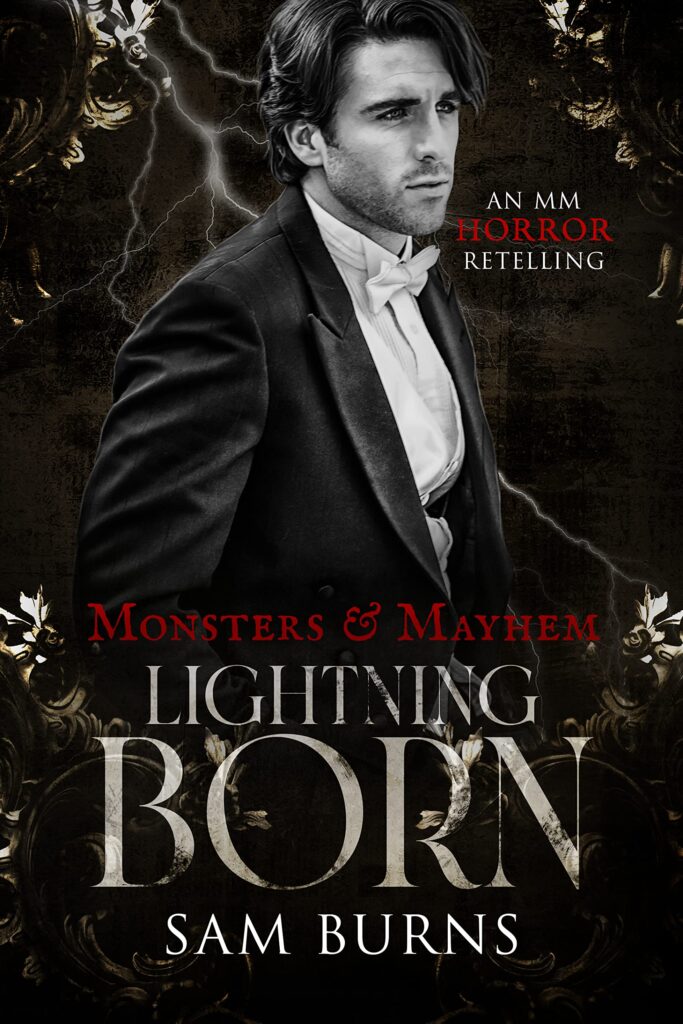 It looks like a bunch of M/M authors are getting together for this new Monsters and Mayhem collection, where they all re-write different (usually) creepy tales. Burns is taking on Frankenstein, and it looks like they're starting to come out throughout September and October.
Check out the full Monsters and Mayhem collection here
Lightning Born will be released on 23rd September 2022
Prince in Disguise – Tavia Lark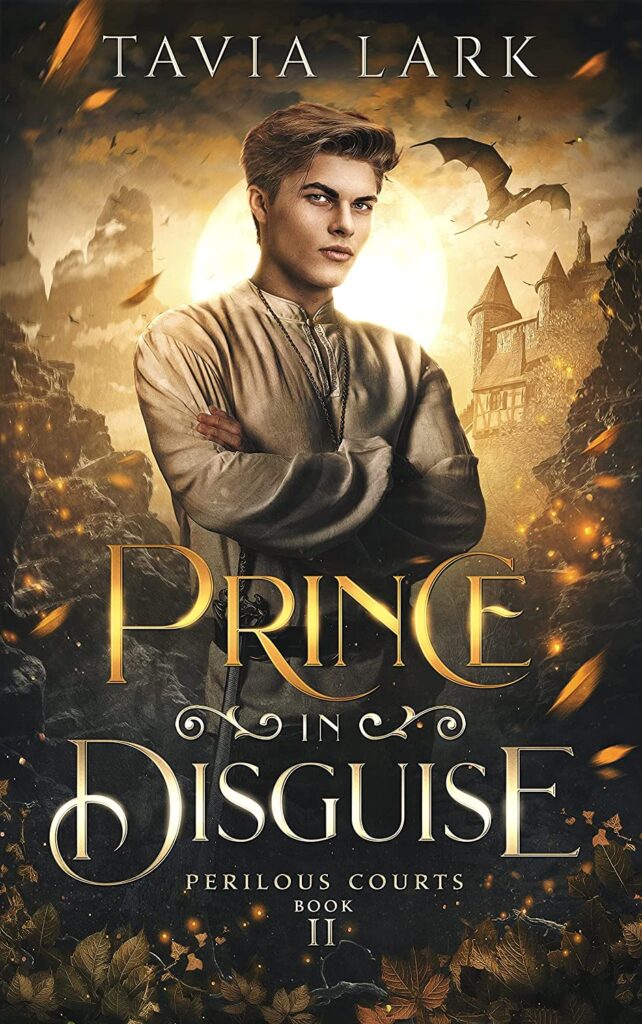 Okay, this one's a bit of a cheat, as I've downloaded the first book in this series (Prince and Assassin) but haven't read it yet. Still, I loved Tavia Lark's Radiance series and I can't imagine I'll feel any other way about this one. (The Sword-Witch's Heart was incredible, highly recommended.)
Prince in Disguise will be released on 28th September 2022
That's it for me this month! What are you looking forward to reading in September?