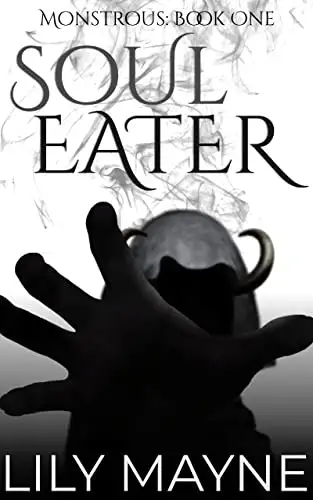 Series: Monstrous
Pages: 259
Time to read: 1h28m
Pages/hour: 159
Date read: Sat 3 Sep 2022 (re-read)
Rating: 💀💀💀💀💀
What do you do when you come face-to-face with a death monster?
Lily Mayne's Monstrous series starts here, with Soul Eater, the story of soldier Danny and the death monster who takes a shine to him.
Sometime in the future, a tear has opened up between our world and another. One that's full of monsters. They flooded in, the army responded, and now much of the USA is uninhabitable. People are crammed into cities in the so-called safe zones on either coast, and the wide swathes of the centre of the country are known as the Wastes, full of monsters and raiders and general unsavoury types.
There's not much for a young boy to do, so Danny's a soldier, sent out on his first mission to serve as cannon fodder to catch the attention of a creature known only as the Soul Eater. The soldiers with Danny are killed, but a strange thing happens – the Soul Eater is captured, and he let Danny live.
Of course, it's not the last they see of each other. As the sole survivor of his unit, Danny is pressed into trying to get answers from the Soul Eater. But a creature that old always has something else up his sleeve, and it's not long before he's out, and, to Danny's surprise, has brought him along, too.
What's the best bit?
Honestly, all of it.
Mayne's world-building is incredible in everything she writes – the Folk series is a great testament to that, too, though I don't know if I'll write a review on those until I do a re-read before the next book comes out.
There's so much imagination in the types of monsters, their histories, how they interact with each other… Not to mention all the, um, anatomical details. 😉
But also, the characters. It's easy to see in this first book; Danny's so sweet and so badly suited to being in the army, and he's a great foil for Wyn's gruff but ultimately self-conscious demeanour. But it's even clearer the more books in we get, as we revisit characters and see them interact with each other.
Also, I just love Edin; he is 100% my favourite and no, I will not be taking other suggestions.
There are breadcrumbs here, too, for what's to come. Characters are briefly mentioned who show up later on, so if you're reading this series for the first time and are enjoying it, I'd recommend a re-read. There are neat things you can catch!
Who are the real monsters?
What's the verdict?
Five spooky skulls: 💀💀💀💀💀
I don't remember what made me pick this book up the first time (probably the cover), but I'm glad I did. Wyn is funny when he wants to be, and he and Danny are the cutest together. The world-building is excellent and it's paced nicely and is well-written.
If you're looking for a new read (especially something to get you in the mood for spooky season), then I'd recommend it!
Fancy giving it a read?
Find Soul Eater on Goodreads
Find Soul Eater on Amazon (UK)
Find Soul Eater on Amazon (US)