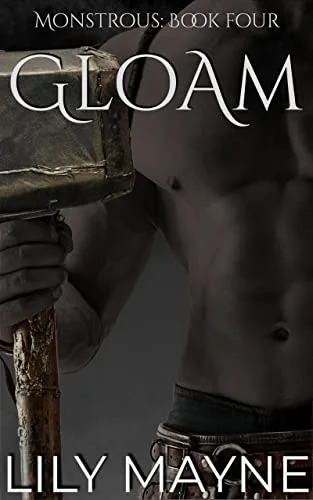 Series: Monstrous
Pages: 413
Time to read: 1h51m
Pages/hour: 223
Date read: Sun 4 Sep 2022 (re-read)
Rating: 💀💀💀💀💀
Always trying to be helpful…
We met Rig in The Rycke and we already know, by the end of that book, that he's gone off with Collector Mary and her beasties to see if he can help them out.
It's a little more than that, though.
Rig is fascinated by the giant, grey monster Mary's got chained to her RV. There's something about him that calls to Rig, and he's willing to do whatever it takes to help him get away from her and be free again.
Gloam is clearly grateful for the help, but he doesn't want Rig to get hurt. A deep betrayal has tied him to Mary and there's little chance of escape. Well, unless they manage to work together…
Brains and brawn
It's this book where I'm fully in love and ready to go with the direction Mayne is taking this series. Not that I wasn't before, and there's been enough little nuggets of info in earlier books that surprises aren't blindsiding the reader, but this really taps into what's out there.
With Danny and Wyn – and Hunter and Edin – there exists their own little ecosystems; they're less restricted by staying in one place, and Edin and Wyn are so powerful, from old races, that they themselves are less vulnerable.
Aury is more vulnerable, perhaps, but still a danger, and he and Ghost are happy to exist in the raider's camp and build up their small community.
Rig's finally ready to go outside. He's growing to overcome his fear of the Wastes, his innate need to help overtaking his need to protect himself. It's what puts him in good stead with Gloam, who has been betrayed by people he thought he could trust and put into a position that he could never have expected.
We see more and more new beasties, too, with their own species names and traits that really makes the worldbuilding stand out. There's an exploration of the different ways this new world has changed people's lives and, while the fundamentals of what Rig discovers aren't surprising, the specifics are horrifying.
Gloam is adorable, of course, absolutely smitten with Rig from day one, and rightly so. There are elements of this that make me think Mayne must have been plotting the Mortal Skin series (or at least thinking about it?) around this time, as some of the themes and elements are similar, but it shows an interesting way in which the monsters' world might have been subtly intersecting with ours the whole time.
And the ending is great – cathartic and lovely, with Gloam protecting and relying on Rig in equal measure. Like the others, he's struck with the awareness that his time with Rig might be painfully short, but it'll be worth it all the same.
Final thoughts
Five more spooky skulls (because let's face it, I'm not giving any other scores to books in this series): 💀💀💀💀💀
I love the dichotomy of Gloam – this giant beastie with a warhammer who's from a race obsessed with knowledge and can be so gentle, and the way his character intersects with Rig, who wants so desperately to be helpful but assumes he's not all that good at anything.
That, plus the worldbuilding (plus some very hot scenes despite the fact that Gloam's head is in a cage! A lot!) makes this yet another must-read in this series.
Fancy giving it a read?
Find Gloam on Goodreads
Find Gloam on Amazon (UK)
Find Gloam on Amazon (US)