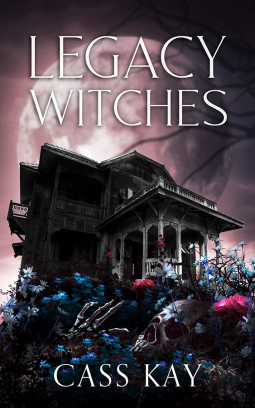 Series: Legacy Witches
Pages: 287
Time to read: 1h39m
Pages/hour: 174
Date read: Fri 2 Sep 2022
Rating: ✨✨✨✨✨
✨ Disclaimer: I received a free copy of this book in exchange for an honest review. ✨
A cracking start!
This book marks the first ever ARC I've got and read, and what a way to get started. There's a definite spooky vibe from page one when we're introduced to the house upon Vianna's return. She's been gone from Salem a long time, desperate to leave her witchy heritage behind. But she has no choice but to return for her mother's funeral, which leads to Vianna uncovering a mystery perhaps best left alone…
I wasn't exactly certain what to expect from this book, but it was a fun ride. For a horror book, I'd say in some ways, it's horror-lite, in that many things are tempered by humour and the fact that Vianna can fight back. That being said, the beginning is definitely unsettling and there are dark moments throughout that really ramp up the tension.
The characters are a lot of fun! There's more than enough witches to go around, but they're all distinct enough that it's pretty straightforward to keep track of them. Vianna's our lead, of course, and she's a fun one, getting over her instinctual desire to leave quickly when she realises she wants to learn more about what's been going on in Salem while she's been gone.
Dee is an awesome character too. She's a little mysterious at first, and quirky, but proves to be a strong ally for Vianna when it comes to dealing with all that's going on. We've got some great antagonists in the book, as well, and when all the plot comes together, it leads to a climax that I think would be as fun to watch as it was to read.
There's some great world-building too, with the covens and magic and how Vianna fits into it all. It feels realistic enough that it could be something happening in modern-day Salem; it's just that people haven't bothered to notice.
Obviously, the book is set up for a sequel – potentially a series – which means there are a couple of threads left loose, but the plot in this one doesn't suffer for it. I think that's also why I'd go for horror-lite as a genre (maybe mystery?) because it's for sure darker than your regular cosy mystery, but the longevity of the storyline and power our protagonist has does blunt a lot of the darkness.
(Note: this is true of many horror-adjacent series, in my opinion. The more time you spend with a horror concept, the less scary it becomes. YMMV, of course.)
Another character in the spotlight…
Again, no spoilers, but Vianna's mother's house definitely deserves its own mention. I love the concept of a slightly sentient house and it's a little bit sassy, which is so fun.
Plus, haunted!
Albeit, it's haunted by Grandma (not Vianna's direct grandmother; an older matriarch), who is a judgmental pain in the arse, but still, it's great! The house had me absolutely delighted and is fully a character alongside Vianna and everyone else, just as it should be.
So, what's the verdict?
Five magical sparkles: ✨✨✨✨✨
The worldbuilding and character work in this book makes for a really fun read! It's definitely trying to edge into darker territory, and I think in some ways that works, but I don't see that lasting through a whole series, which is not necessarily a bad thing. There's enough humour to take the edge off and the plot is well-paced and interesting.
Definitely a fun Spooktober read!
Fancy giving it a read?
Check out Legacy Witches on Goodreads
Preorder Legacy Witches